AXA Health Insurance
Global insurance brand
Present in 57 countries
No advance payment
At AXA network of over 400 hospitals and clinics nationwide
Single purchase
No need to buy a trailer with a life insurance contract
Care for your family
Offer a family discount
Eligible for tax deduction
Get your money's worth
Coverage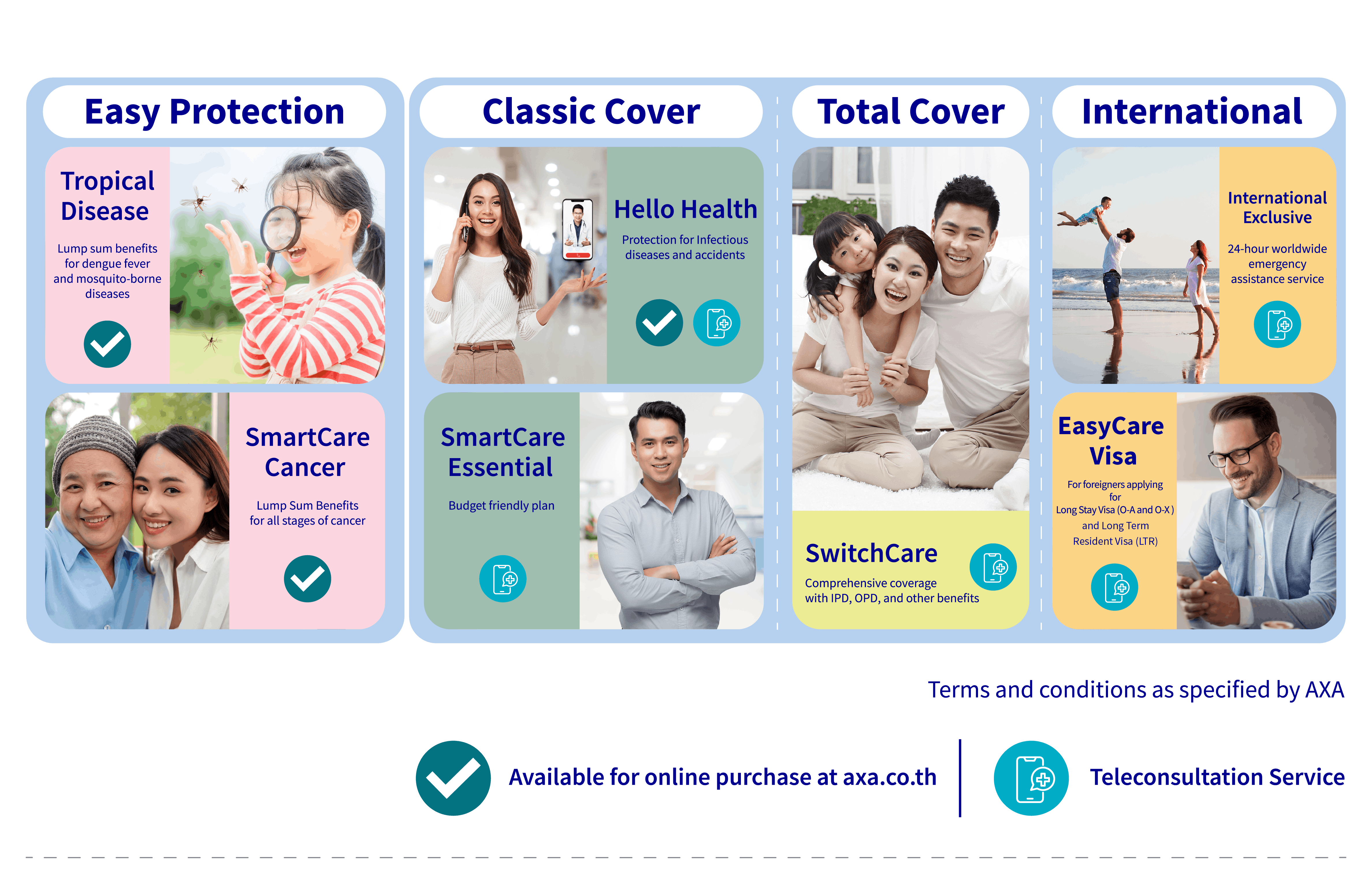 Unexpected situations such as illnesses and accidents could happen at any time
and might affect your expenses and savings. AXA Personal Health Insurance allows you to live your life with a peace of mind. Our plans are designed to meet your needs at different stages of your life with reasonable price. Benefits such as surgery, both in- and out-patient are just some of the features of our health insurance plans. We also offer an extensive network of leading hospitals and clinics nationwide.

As the current situation of COVID-19 outbreak, AXA is delighted to offer Telehealth Service for AXA Health Customers who have OPD benefit to meet a doctor online without advance payment and get your medication delivered to your home in Bangkok area.

______________________________________________________________________________________________
AXA Health Insurance includes medical coverage for COVID-19 ✔
except Hello Health, AXA SmartCare Cancer, and Tropical Disease Insurance
Terms and conditions of coverage and underwriting as specified by AXA, the Insured should understand before making the decision.
Frequently Asked Questions
Does AXA have an online health insurance to obtain visa of Thailand?
EasyCare Visa meets health insurance requirements for Non-Thai nationals who purposed applying for Long Stay Visa (O-A and O-X) and Long Term Resident Visa (LTR) with age up to 80 years old and renewable up to 99 years old.
For more inforamtion please visit here
Why choose AXA Health Insurance ?
1) Global insurance brand which presents in over 50 countries worldwide
2) No advanced payment at AXA network of over 400 hospitals and clinics nationwide Click here to find our network hospitals
3) No need to buy a trailer with a life insurance contract
4) Offer a family discount and premium is eligible for tax deduction
5) Offer Telehealth service to meet a doctor online without advance payment (applicable to specific products)
6) Variety of online product packages (specific diseases and accident / cancer / tropical disease) for convenient online subscription !
Does AXA Health Insurance cover medical expenses from COVID-19 ?
Yes, customers will receive coverage for the medical expenses of COVID-19 except AXA SmartCare Cancer, AXA Hello Health (Specific Diseases), and Tropical Disease Insurance. The coverage will depend on the terms of the policy.
How long does AXA Health Insurance coverage provide ?
AXA Health Insurance has a coverage period of 1 year after the given coverage start date.
Can AXA Health Insurance be used for tax deduction ?
Health Insurance Premium is permitted for annual tax deduction, depending rule on matters related to taxation upon the Revenue Department.
You don't have to pay medical expenses in advance with AXA medical network. In case of out of AXA network, you have to pay medical expense in advance and then make a claim enquiry by filling a claim form, providing necessary documents i.e. medical certificate, medical receipt, other documents (if any) and send to AXA Health Claim Department. Click here for more details
How long do the period of consideration and reimbursement take ?
In case you submit all documents and AXA does not want to request any information additional in consideration of coverage, your compensation will be proceeded within 15 days.
Does AXA have any promotions for Health Insurance purchase ?
Yes ! Customer can explore variety of promotions for AXA insurance product. Browse to Health Insurance menu to learn more on webpage https://www.axa.co.th/promotions
Who should I contact if I have questions about insurance plan or need more information ?
If you are interested in our product or any further assistance, please click here to send us your requests or directly contact AXA Customer Service
☎ Call Center: 02-118-8111
✉ Email: axathai@axa.co.th
Ⓕ Facebook: AXA Thailand / www.facebook.com/AXAThailand
✎ LINE: @axathailand or click line.me/ti/p/%40ved1579k
Monday to Friday 8.30-18.30,
Saturday 9.00-18.00
(except official holidays)
In addition, browse our health insurance online products HERE and make purchase online for instant coverage !