Travel Insurance
Make your trip more enjoyable with our comprehensive coverage.
Travel With Peace Of Mind - Choose AXA Insurance
Are you looking for Covid insurance to travel or return to Thailand? Are you looking for health insurance covering Covid-19 (in an amount of at least 10,000 USD) for your Thailand Pass application (required for entry before 1 July 2022 per latest government announcement)? You can now get the right policy with Covid-19 certificate instantly, please visit AXA Sawasdee Thailand Inbound Travel Insurance page
Count on AXA for your worry-free trip. Buy online easy in 3 minutes and get instant coverage. No matter where your destination is, AXA gives protection to your travel with many comprehensive coverages that suit you. AXA Thailand offers International Travel Insurance and Domestic Travel Insurance.
Variety of packages to cover trip, flight, medical expenses, property, and more! AXA Hotline services operates 24 hours a day 7 days a week, ready to serve you when you need us the most.
For International Travel Insurance, AXA has Single Plan (maximum coverage 180 days) and an Annual Plan (Unlimited number of trips per year, up to 180 day per trip). Choose a plan that most fits your needs and travel style. For non-Thai looking for inbound travel insurance to enter Thailand, choose Sawasdee Thailand product.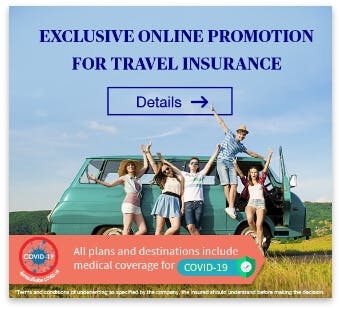 All International Travel Insurance Plan and Destination Include Medical Coverage for COVID-19
______________________________________________________________________________________________
AXA cares for you with travel coverage of the Corona virus (COVID-19).
• Can request to postpone the coverage date if affected by the Coronavirus.
• Cover medical expense during overseas trip included the illness from Coronavirus, all plans and all destinations
• Cover for follow-up medical treatment in Thailand if the Insured has received medical diagnosis and treatment while overseas. The first follow-up medical treatment in Thailand has to be within 12 hours after arrival in Thailand
• 24-hours international emergency medical evacuation and repatriation
For more information, please contact Customer Service via Line Official @AXATHAILAND
or call 02-118-8111, Monday-Saturday, from 09.30-18.00.
*Term and Conditions of underwriting as specified by the company. The insured should understand before making the decision.
AXA's Customers Testimonial
"I purchase AXA's travel insurance as I usually travel abroad. I felt warm when I got travel insurance with me because it covered up the medical fee and damage of luggage."
-- Pornpassorn Rungsiridecha --
How good is travel insurance?
Frequently Asked Questions about Travel Insurance Insurance
✔ Buy online 24/7 and get policy instantly via email.
✔ Advanced purchased up to 6 months
✔ Comprehensive coverage
✔ 24-Hour AXA Hotline Service. Tel (+66)-2118-8111
✔ Global network's coverage