Travel Insurance
Make your trip more enjoyable with our comprehensive coverage.
Travel With Peace Of Mind - Choose AXA Insurance
Are you looking for insurance to travel to Thailand that includes medical expenses from Covid-19? AXA Sawasdee Thailand meets the government's health insurance requirements and is well recognized among leading hospitals, airlines and immigration bureau. Please visit and apply online via AXA Sawasdee Thailand Inbound Travel Insurance page
Count on AXA for your worry-free trip. Buy online easy in 3 minutes and get instant coverage. No matter where your destination is, AXA gives protection to your travel with many comprehensive coverages that suit you. AXA Thailand offers International Travel Insurance (for travelling outbound from Thailand to abroad and back) and Domestic Travel Insurance (for travelling within Thailand).
Variety of packages to cover trip, flight, medical expenses, property, and more! AXA Hotline services operates 24 hours a day 7 days a week, ready to serve you when you need us the most.
For International Travel Insurance (covering trips from Thailand to aborad), AXA has Single-Trip Plan (maximum coverage 180 days) and an Annual Plan (Unlimited number of trips per year, up to 180 day per trip). Choose a plan that most fits your needs and travel style. For a non-Thai looking person for inbound travel insurance to enter Thailand, choose Sawasdee Thailand product.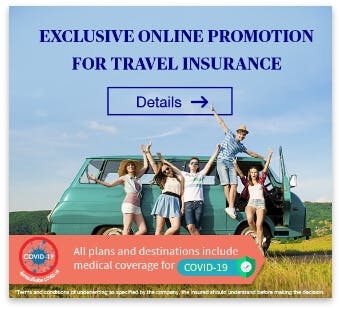 AXA's Customers Testimonial
"I purchase AXA's travel insurance as I usually travel abroad. I felt warm when I got travel insurance with me because it covered up the medical fee and damage of luggage."
-- Pornpassorn Rungsiridecha --
Frequently Asked Questions about Travel Insurance Insurance
✔ Buy online 24/7 and get policy instantly via email.
✔ Advanced purchased up to 6 months
✔ Comprehensive coverage, covering medical expenses including one from Covid19
✔ 24-Hour AXA Hotline Service. Tel (+66)-2118-8111
✔ Global network, with presence in 50 countries worldwide