AXA Motor 3+ Super Save
The best prices guarantee for safe drivers
Highlight
Motor Insurance Type 3+
Buy online in 3 minutes and get policy in email instantly.
No vehicle inspection is required
For a sedan or pickup truck up to 20 years old.
Cover accidental property damage to insured car in case of collision with third party's vehicle
Up to 10,000 per accident for standard, factory-issued accessories coverage.**
No deductible (when you liable for a collision).
Free AXA Roadside Service 24-hour nationwide emergency assistance.*
Now for old replacement for accidental damage on the following 4 items; Tyre, Battery, Radio and Audio, Lubricant and Coolant.
AXA Motor 3+ Super Save is a type 3+ motor insurance. We provide more coverage than regular class 3 motor insurance. Our coverage includes bodily injury and property damage to third parties, property damage to the insured car in case of a collision with third party's vehicle, medical expense, personal accident and bail bond
Free! AXA Roadside Service 24-hour emergency assistance at 02-118-8111. We giving you greater peace of mind on every trip.

Check Your Price or Buy Motor Insurance Online
Get a policy in email instantly.

______________________________________________________________________________________________
Save Money and Get the Best Coverage
with Special Promotions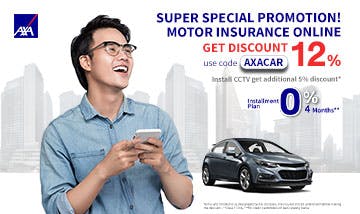 ______________________________________________________________________________________________

**Brand (make) is applicable for this package: TOYOTA, HONDA, THAI RUNG, ISUZU, NISSAN, MITSUBISHI, FORD, MAZDA, HYUNDAI and SSANG YONG.**
**Authorized motor online insurer by the Office of Insurance Commission**
*Terms and conditions of underwriting as specified by the company, the insured should understand before making the decision.
Coverage
Motor Insurance Type 3+ Super Save Coverage:
1. Own damages – collision with land vehicle, the insured can identify the litigant.
2. Limit for property damage for the damage to property of the third party which shall be legally borne by the Insured.
4. Personal accident coverage, Medical Expense provided that such person is in, getting in, or getting out of the Motor Vehicle, Bail bond
_______________________________________
Motor Insurance Type 3+ Super Save: Table of Benefits
Coverage
Limit of Liability (THB)

Third Party Lliability

Bodily injury (Over maximum limit of compulsory motor insurance only)/Person

500,000

Bodily injury (Over maximum limit of compulsory motor insurance only)/Accident

10,000,000

Limit for property damage/Accident

1,000,000

Own Damage Coverage

Own Damage Sum Insured

Follow Sum Insured

Fire and Theft

-

Own damage due to Natural Perils such as Flood, Earthquake, Hail and Windstrom

-

Additional Coverage

Personal Accident

100,000

Medical Expense

100,000

Bail Bond

200,000

Deductible

No Deductible
Remark: Deductible 2,000 THB on the policy schedule is in accordance with requirements of the Office of Insurance (OIC) in issuing this insurance plan. In practice, AXA will not collect the deductible certainly.
_______________________________________
**Accessories equipment
If the insured is unable to identify the accessory or does not notify the equipment coverage. This policy protects the equipment installed by car manufacturer or car dealers according to the actual value at the date of the event. For type 2+ and 3+, any other additional accessories are covered up to a maximum of 10,000 baht/accident.
The company does not consider the insurance equipment. As follows:
1. Movable accessories include car front-facing cameras or satellite antennas for cars
2. Kevlar
3. Crystal Glass Coating or other coating is the same characteristic except glass coating protection of HAIB project.
4. Mounting stickers include stickers for changing the car Wrap, with stickers for changing some car colors, stickers etc.
5. Steel roofing Frame Dry or fridge, except for the steel roofing frame. A dry or refrigerated refrigerator with a height of the car (excluding systems and refrigeration).