Special Promotions 2022 for Motor Insurance with discount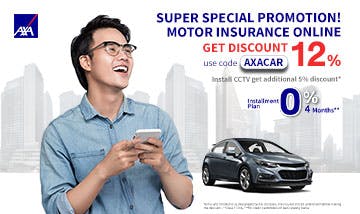 Buy motor insurance online and use code: "AXACAR", Get 12% discount on premium
_______________________________________
Use Code: AXACAR
_______________________________________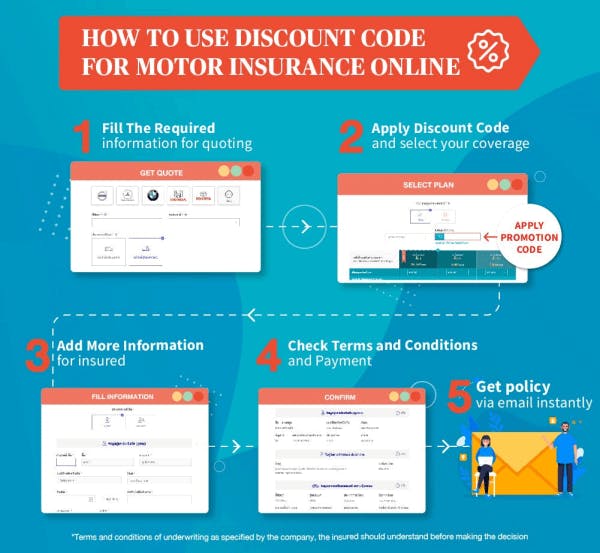 Terms & Conditions for AXACAR promotion:
● This promotion is only valid for the purchase of motor insurance via the website https://direct.axa.co.th/Motor of AXA Insurance Public Company Limited and applies code "AXACAR", valid Today - 31 July 2022
● Promotion for personal usage only
● The discount under this campaign is valid for the first-year premium only.
● The customers who purchased via online to have not had any claims regarding motor insurance with AXA Insurance in the past 12 months. In case you had any claims, the company must decline and proceed to the cancellation your policy.
● CCTV additional discount is valid for Motor Class 1 only.
● Promotion is valid for the purchase of Voluntary Motor Insurance via online only. Any channels cannot be used for this discount.
● For credit cardholders of participating banks; CITIBANK, BANGKOK BANK, Central The 1 Credit, Krungsri (excluded First Choice), KTC, SCB, Thanachart, and UOB
● For all eligible policies, the company reserves the right of any cancellation.
● Promotion cannot be used in conjunction with any discount or promotion.
● The discount under this campaign cannot be exchanged, changed to cash, or transferred to any other party.
● The company will not be held responsible if the goods are damaged or lost from delivery.
● All the images are only for advertising purposes and do not reflect the final products. The company reserves the right to change the color or create new patterns of the prizes.
● The insured should clearly understand the details of the policy coverage and its terms and conditions before making the decision to purchase an insurance product.
● AXA reserves the right to amend, change, or cancel the terms and conditions, details of this promotion (including changing to any other prizes with equivalent value) without prior notice. In the case of any dispute, AXA's decision is deemed final.
● For more information, please contact
- AXA Customer Service 02 118 8111
- Facebook: www.facebook.com/AXAThailand
- Line Official: @axathailand