Cancer: An Underlying Threat for Working Age
People in working age may be inadvertently destroying their own health, which includes smoking, partying, drinking, lack of sleep, and unhealthy diet. Such behaviors may lead to illnesses like cancer. And here are how:
1. As you're getting older, you are obliged with more responsibilities. You may have to sleep late and wake up early in the morning, or barely get any sleep. These behaviors weaken your immune system. Your body is just like a car. If the engine is always on, the motor will be worn out. Same with your body. You don't get enough sleep, there can be something wrong with your body.
2. You smoke all the time--during and after work. Smoking has an awfully high association to many kinds of cancer such as lung, laryngeal, oral, oesophagus, stomach, pancreatic, and cervical.
3. You are exposed with chemical substances from work. Inhaling or touching certain substances, including asbestos, benzene, benzidine, cadmium, nickel, and vinyl, can be a cause of cancer. 
4. People with hepatitis B and C virus, HIV, or certain kinds of bacterias such as HPV virus should strictly follow up doctor appointments. If you have to work late, you should have at least enough time to sleep and eat healthy.
5. Drinking is not about getting "drunk" anymore. If you drink too much that your body can't take it anymore, you will be at risk of getting oral, stomach, laryngeal, liver, and breast cancer.
6. You have an unhealthy choice of diet. Fatty meats and fried foods contain high fat and are a risk factor of intestinal, endometrial, and prostate cancer. Obesity and lack of exercise are causes of breast and intestinal cancer as well.
If you or your loved ones are at risk of having cancer, it would be better to consider buying cancer insurance. You can buy ours via online and get policy via email instantly.
______________________________________________________________________________________________
More details on AXA Cancer Insurance Online
>> https://www.axa.co.th/axa-smartcare-cancer
Buy now (for Thai National only)
>> https://direct.axa.co.th/Health/CoverageOptionPlan
______________________________________________________________________________________________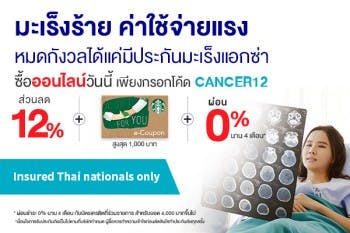 If you have any questions or need more information, please feel free to contact us through the below channels.
- Line Official: @axathailand
- Facebook: www.facebook.com/AXAThailand
- AXA Customer Service 02 118 8111
Terms and conditions of campaign and underwriting as specified by the company, the insured should understand before making the decision.