Table of Benefits Compulsory Insurance for Long Stay Visa
Table of Premium (Stamp Duty Included)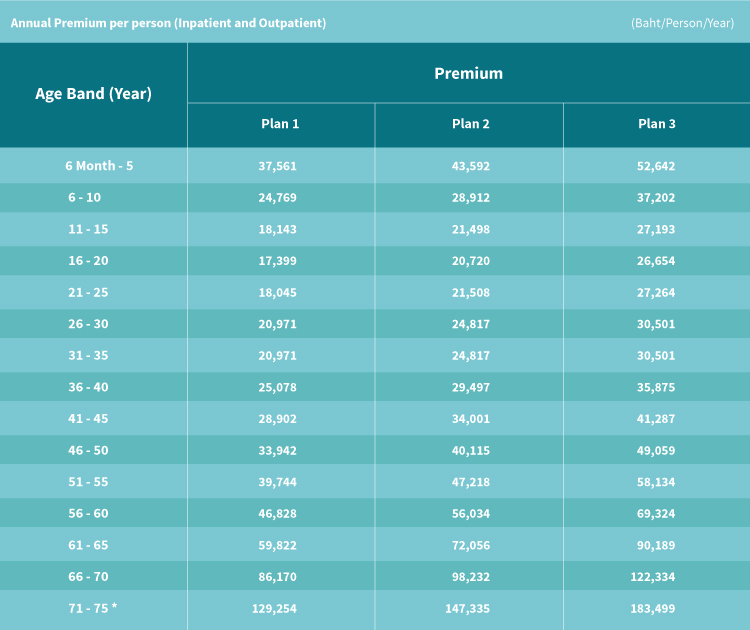 ______________________________________________________________________________________________
Contact us for a quote and special discount on standard premiums* available until 31st October 2020 here!
______________________________________________________________________________________________
Conditions:
Applicant has intention of applying for Long Stay Visa in Thailand (O-A & O-X Visa)
O-A Visa: All foreigners
O-X Visa: Nationality from 14 countries: (1) Japan (2) Australia (3) Denmark (4) Finland (5) France (6) Germany (7) Italy (8) Netherlands (9) Norway (10) Sweden (11) Switzerland (12 ) United Kingdom (13) Canada (14) United States
Entry age up to 70 years old
Medical check-up is required for applicants aged 60 years old and above.
Benefit and Premium Notice:
Major medical pay 90% in excess of table limit for item 1.2 (Hospital Miscellaneous Expenses) and 1.5 (Surgeon's Free without Surgical Schedule) up to the Maximum payable of section1, (except 1.6 Accidental Miscarriage)
Max. payable limit in whole policy period means the maximum sum insured for whole policy period not limit maximum
Loss of Life, Dismemberment, Loss of Sight, Loss of Hearing, Loss of Speech or Permanent Disability (P.A. 2) Including Murder-Assault and driving or riding as passenger in a Motorcycle-as per the sum insured.
* For Renewal Policy only.
This document is not an insurance contract. Full details are specified in the insurance policy. For more details, please see the details of coverage and exclusion in the insurance policy.
Customer Service Contact Center
+66 (2) 118-8111
Operating day / hour
Monday - Friday 08:30 - 18:30, Saturday 09:30 - 18:00