Why You Still Need "Accident Insurance" Even If You Are Living a Careful Life
Accident happens to anyone, anywhere, and you won't know it beforehand. It may cost you physical and emotional injuries, disabilities, life, or loss of property. 
Personal Accident Insurance or PA insurance is a protection of an insured person against an accident that results in death, disabilities, or injuries. The policy usually covers medical and IPD expenses, where its compensation can be indemnified to the insured person or their beneficiary, depending on individual cases.
PA insurance policy can be divided into 3 categories: Personal Accident Insurance Policy, Group Accident Insurance Policy, and Student Accident Insurance Policy.
Each policy holds a different coverage, but you can pay more to expand the coverage so it's suitable for your lifestyle. Think of it as buying the risks of accidents so you can be worry-free if anything happens.
Insurance premium payment should be planned to suit each person's lifestyle. It is also worthwhile to note that most policyholders find paying for accident insurance premium more pleasing than other insurance types as it is predictable and allows them to make a solid financial plan before deciding to pursue a renewal.
However, illnesses from non-accidental related problems aren't in the coverage area of accident insurance.
An insurance policy is available for customization. For example, you can choose to pay for death and disability coverages but not for medical expenses, expand the coverage on excluded threats stated in the policy such as motorcycle rides, riots, strikes, wars, non-commercial aircraft flight, and extreme sports. The more sum insured is obliged, the more insurance premium will be.    
Accident insurance policy has a standard coverage in every insurance company: 24/7 service, including holidays. There can be some differences in insurance premium rates and policy plans. What you need to consider before purchasing accident insurance is that your insurance premium must be suitable for your income and your sum insured should be at least 10 times your annual income.
Other benefits totally depend on your lifestyle. But don't pay too much than what you actually need or you'll be paying for nothing.
If you have any queries on choosing the right accident insurance plan, don't hesitate to consult insurance experts.
______________________________________________________________________________________________
Once a carefully informed decision is made, you can be sure that you have chosen a worthwhile choice for your future. To secure a life of safety, find more information at
https://www.axa.co.th/personal-accident-protection
Everywhere you go, get 24 Hours Worldwide Coverage. Buy personal accident insurance online and get the policy schedule via email instantly.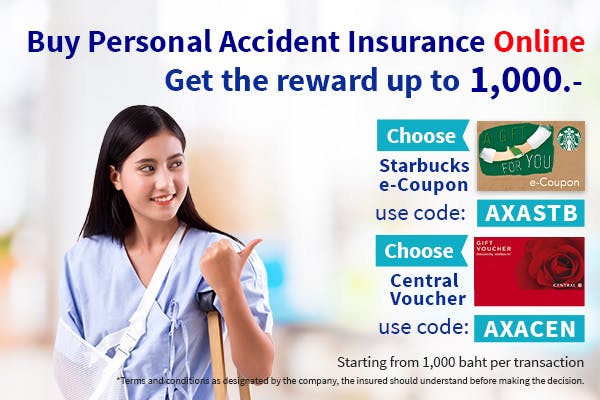 ______________________________________________________________________________________________
For more information about our insurance products and services, please contact us
- Line Official: @axathailand
- Facebook: www.facebook.com/AXAThailand
- AXA Customer Service 02 118 8111