"AXA Preferred Garage" off to a Great Start with Partners and Customers
AXA Thailand General Insurance received good response from garages and customers regarding its "AXA Preferred Garage" program launched earlier this year to ensure its car assurance customers the best service experience from qualified garages.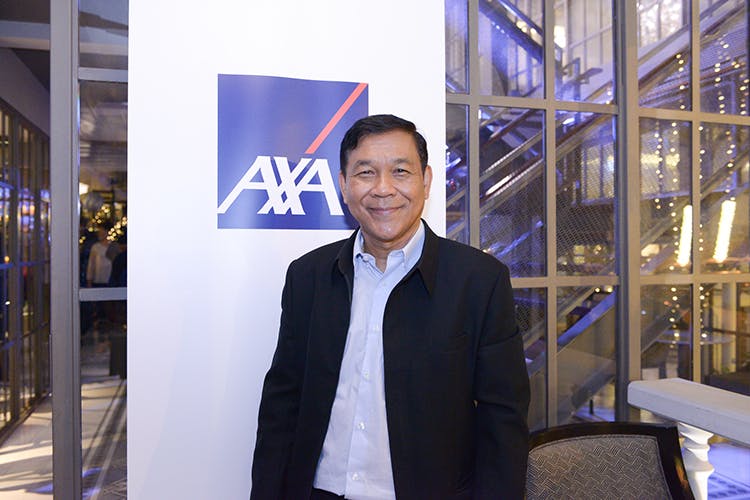 Mr. Somjate Khunsriuchen, Chief Operations Officer at AXA Insurance Public Company Limited said "AXA Preferred Garage program has received very good responses from both participating garages and car assurance customers due to they both benefit from the program. Meanwhile, AXA aims to deliver the best service to its customers which will result in more satisfactions."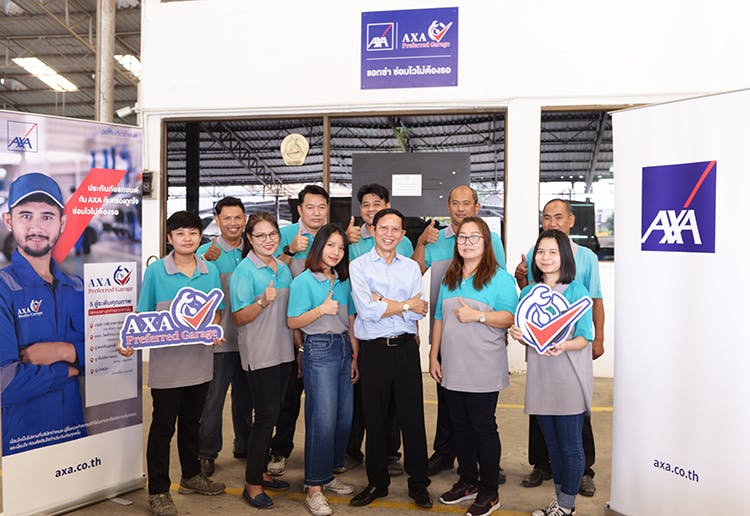 Mr. Samai Seeda, owner of Numsamai Service Garage, said "competition in the garage business is really fierce. Garages have to well manage increasing operation costs while maintaining the best service to customers. So, the AXA Preferred Garage program becomes beneficial because customers will take only up to 10 minutes to proceeding 4-5 service requests. They have great experience with our garage and spread word of mouth. Eventually, we gain more business."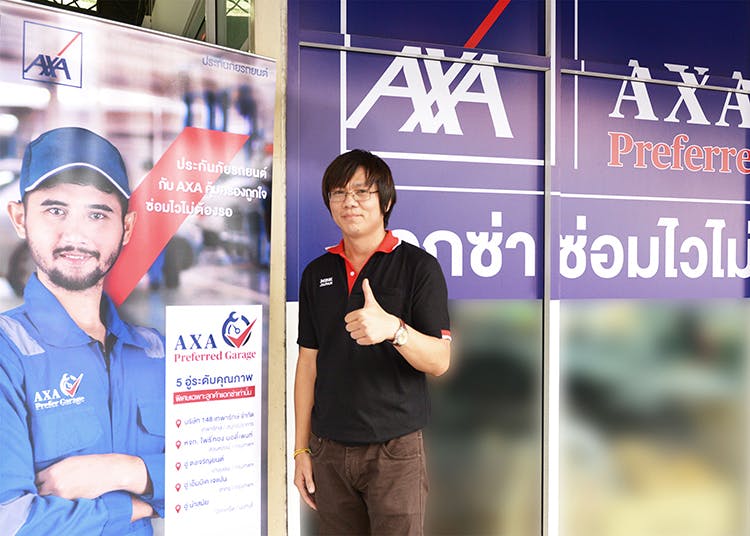 Mr. Mongkol Naraemngam, Managing Director of MBK Japan Co., Ltd., a well-known garage on Nang Linchee road that has been in the business for over 7 years, reviews that "AXA Preferred Garage is a very good program. After joining the program, our garage has gained about 5 times more of AXA customers. Half of them uses a free pick-up and delivery service within 10 kilometers*, and most of these customers live in Sathorn, Suan Mali, and Klong Toei. "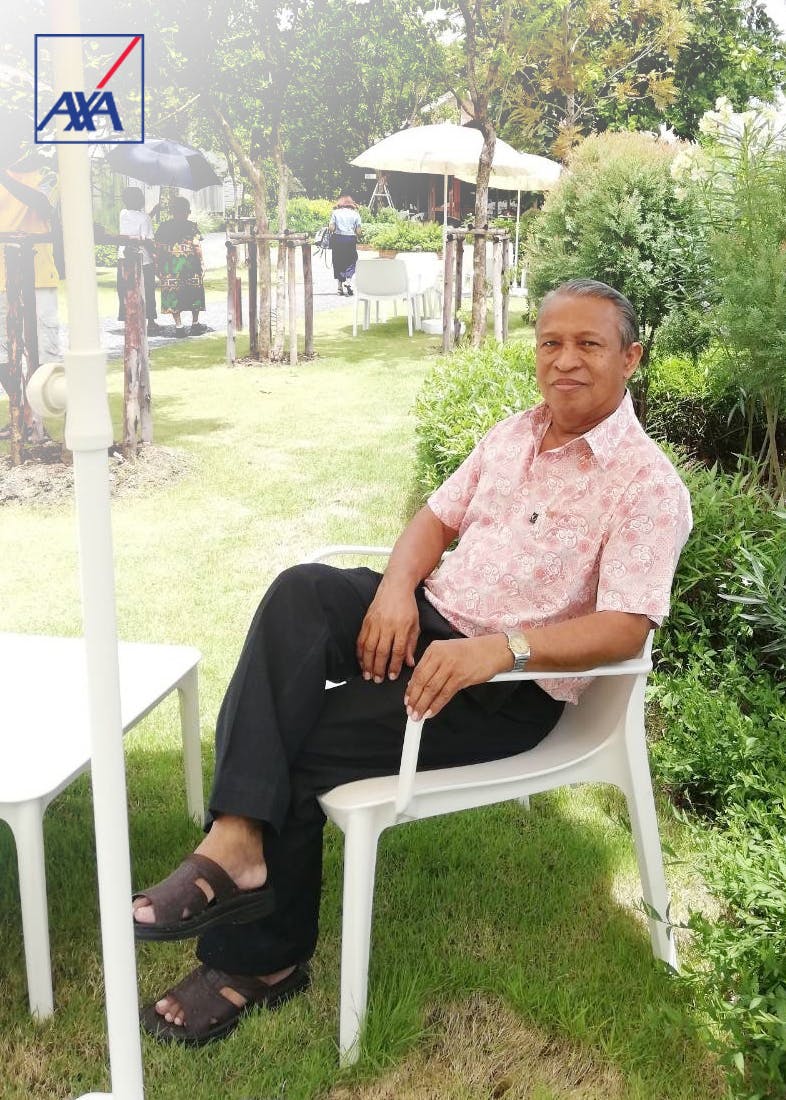 From customer's point of view, Visuth Chumket, a 68 years old long-standing customer of AXA car assurance, said that he's pleased with the program. He took his Toyota Vios to Numsamai Garage for paint repair in October after a motorcycle hit his car because the garage is in the AXA Preferred Garage program and was impressed by the garage's attention to every detail and punctual service, with only a week taken to get the job done.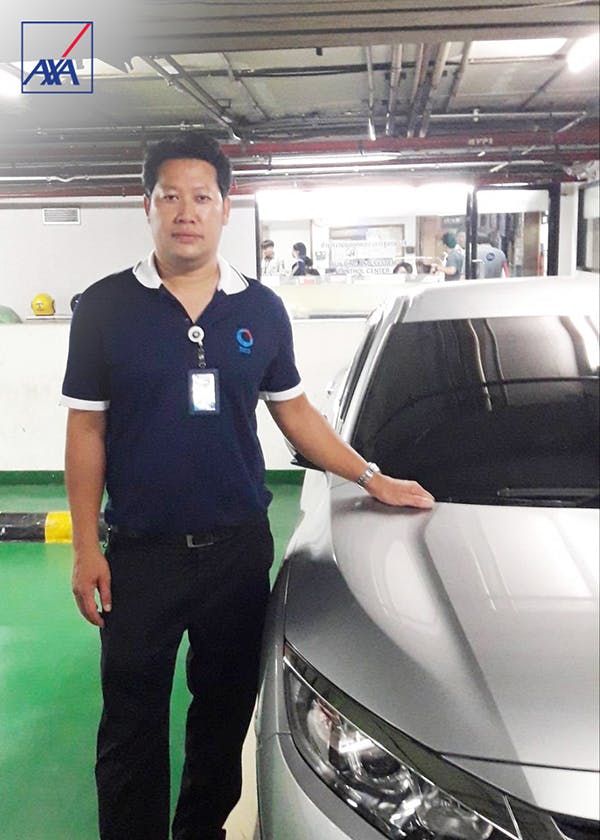 Mr. Supachai Tassanaporn, a 40-year-old transportation officer of Tisco Financial Group, visited MBK Japan Garage last October. He said his company had been a customer of AXA car assurance. Most of the company's cars are imported from Japan. He recently took 5-6 of them to get fixed at the garage after some accidents and was impressed by a quick service, the staff, and the technicians of the AXA Preferred Garage."     
Special privileges for AXA's car assurance customers who use services from those five preferred garages include immediate assistance without queuing, car delivery within 10 kilometers*, a one-year warranty of repair quality, a guarantee of high-quality body paint, and complimentary car cleaning service. In addition, AXA offerred AXA 4U, a special privilege for Motor Insurance with 100% payment (no deductible for depreciation) for accidental damage to the 4 following items, including tyres, battery (excluding hybrid batteries), lubricant and coolant, Radio – Audio.
The five garages under AXA Preferred Garage program are 148 Tepharak at Tepharak, Samutprakarn; Pothong Bodypaint & Service at Prawet, Bangkok;  Tong Charoen Yont Garage at Bang Bon, Bangkok; MBK Japan Garage at Sathorn, Bangkok; and Nam Samai Garage at Pakkred, Nonthaburi. End with the intention is to grow the number of preferred garages next year.
For more information, please contact AXA Customer Service Center at 02-118-8111 or visit  https://www.axa.co.th/th/private-car-insurance.
*Terms and conditions and underwriting as specified by the company, the insured should understand before making the decision